*Mild Spoilers For Season 9 of
Supernatural
*
... When I wanted them to actually kill someone
,
I didn't want them to kill
Kevin
! *sigh* I know it's hypocritical, saying I wanted people to die then turning around and saying "bring Kevin back", but come
on
!
*deep breath* It's Supernatural. Anybody can come back. Anybody can come back. Anybody can back... *repeats mantra*
Ahem... Anyway...
So, next week
Supernatural
returns! And oh boy, am I looking forward to the next one. Why? Because my favorite character, Crowley, gets to torture Gadreel (AKA "The Angel Formerly Known As Ezekiel") to make him leave Sam!
Crowley has been
best pony
my favorite character this season. It's going to be
cathartic
to see him beat Gadreel out of Sam. I really dislike him, for multiple reasons (killing Kevin now added to the list).
So, if I may say it in advance: Crowley....
*ahem* Sorry...
Anyway, let's check out the big mid-season promo:
Let's see:

Oh hai, Mark... (Also, yes, I am experimenting with screenshots...)
Yay, Crowley! I wanna give Mark Sheppard heaps of nice things for playing him!
Crowley: "Is... Is she pointing a gun at us, Squirrel?
This is the last time I accompany you on an adventure..."
...Dean and Crowley apparently on a hunt or something? Is Crowley gonna stick around? Is he gonna make a heel face turn/have a redemption arc? Is he gonna join Team Free Will?
Is he gonna flirt with Sam more?
Hopefully!
DOUBLE TAP! DOUBLE TAP!
IS THE COATOAN VIRUS BACK!? (I realize that I forgot to mention that in my season 2 recap... Oh well, it comes up in season 5, I'll explain it in that recap...)
ERMERGERD, ERV BERN GERNKERD!
I think I see another wacky episode coming up... Or this is unintentional... (hopefully something to do with Gabriel?)
I'm going to pretend he's in the hospital for an incident involving playing with adorable puppies...
GARTH! :D Writers, don't you DARE touch a hair on his head! You took away my Kevin and my Charlie, already! Let me at least have this! (And the aforementioned Crowley thing...)
Ech! Metatron... I blame
you
for this season (in-story)...
Go step on a angel blade LEGO doused in holy fire, you prophet-killing,
grace-stealing, angel-casting-out cowardly weasel!
Yay! Abaddon! I like her as a villain. Please don't kill her, either, writers. We have so little reoccurring female characters, now. With Meg gone, there's an opening for a female demon. And with Charlie gone, we have an opening for a redhead. Plus, if Crowley
does
go through a redemption, there's an opening for a main reoccurring villain/demonic monarch...
Hail to the queen...
Abaddon vs. Crowley: The Rematch. I will like this.
I love Crowley's face, here. So much sass conveyed without a word...
...I have no analysis, this was just a hilarious side effect of pausing...

In this moment, Crowley regretted all his life choices...
We have
definitely
got a deal, Crowley... Let the questionable methods begin!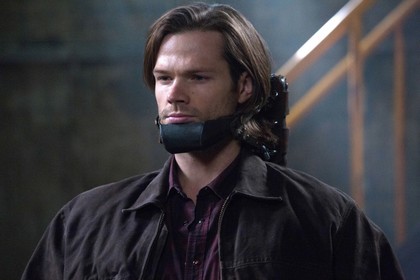 Enjoy, you plague on the season! Crowley, kindly avoid the teeth and nose. It IS still Sam's body...
I think it's Gadreel talking at this part. Can't entirely be sure. I... I just want him to go away... He's dead to me. I know Jared Padalecki likes getting to do this duel role this season, but I hate this character...


Shoo! We want our old Moose back...
I love Castiel's face, here, though. He looks 100% done.
"Getting real tired of your crap, Gadreel..."
Overall, I am excited about this. Hopefully this will fix some of the problems I've had with the season thus far. Plus, more Mark Sheppard as Crowley!
That's always awesome!
Yes you do, sir. Yes. You. Do.